Some people call it the universe, some call it science, some people call it god, some even distributed "GOD" based on their own interests, values and mindsets, and some call it nature. Well, I believe they all are one and the same. But no matter what do we call it, it neither changes its way of functioning nor does it changes its love for us.
I sometimes wonder if the human race is just an experiment. An experiment to see what would people actually do if they know nothing about themselves, about the world they are born in, about their purpose, about the reason of their existence and so I believe that we are being watched !! We are always been seen and all our activities are being noticed and observed. By whom? By the universe, nature or God as we call it.
---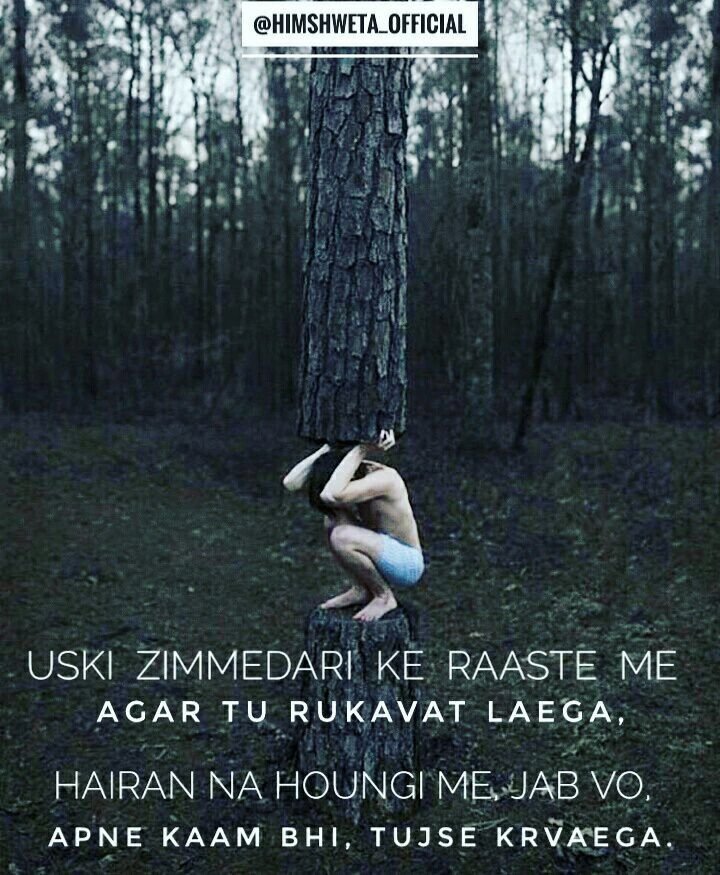 Image source
Quote on image by – @Himshweta
उसकी ज़िम्मेदारी के रास्ते में,
अगर तु रुकावट लाएगा,
हैरान ना होउंगी मैं जब वो,
अपने काम भी तुझसे करवाएगा |

English Translation:-
"If you would interrupt its functions and disrupt its responsibilities, I won't be surprised to see, when it will make you do, whatever was nature's duty."
---
You might ask me now why do I believe this nonfactual reasons? Well, why shouldn't I? What other reason do you think can exist for our existence? I think the nonfactual part should be when we all think that we survive just like that, that we take birth just like that, to die someday and we need to live somehow so that we can survive? Seriously? How can this seem factual instead of that 'experiment belief' of mine? It sounds bulls**t that we live with no reasons at all.
Okay, let me try to assume that we live for just having a "nice" time here until we die. So we have a heart-pumping, a whole set of nerves, kidneys, bones, a super-brain, skin and such a structured body on its own, with no big purpose at all. Hmm, sounds trustable. Okay, so we were given fruits, vegetables, food, a sustainable climate to live, plants to exhale oxygen for us, rain, sun, flowers, EVERY DAMN THING to support us, JUST LIKE THAT, with no reason at all. Sounds believable, doesn't it? Of course, there is some reason, some purpose!! I am not talking lame here, all those who say that we have to live just because we have no choice are the lame guys here !! Prove me wrong if you can.
So if there is some reason, some purpose, even if we are totally unaware of it, it still acknowledges that there is someone keeping an eye on us. Someone watching all our actions, taking into account all our deeds because even if we don't know the big reasons, IT does and if it is watching us, it is fairly logical that it is listening to us as well. It also helps, but in its own ways, sometimes understood by us, sometimes not.
So if we are always watched upon and listened to, why do still things keep on going wrong? Why nothing comes up and change whole of our situations to help us? Why do we feel alone? Why doesn't it feels like someone is listening? Why do people keep on taking advantage of us and nothing happens to them? Why the hell does it feel as if no one cares?
It is because THAT EXACTLY IS THE PURPOSE. Yes, to deal with a world totally unknown, where we are on our own, where there is no one to help us, except for some exceptions, that too not for long. Maybe we are getting trained for something big, or it might just be a level of a game, or an experiment. Maybe we get transferred to another world when we cross this level. Maybe that's why good people die too soon. Maybe they deserve to be on another planet, at a higher level. I am not sure of anything because these talks can not be based on any fact but still, some logics do fit and fix these mysteries.
Things keep on going wrong not because nature is not looking at us, but because it wants us to be independent enough. It wants us to be strong, to take care of ourselves. Things keep on going wrong because God wants US to make it right. Nothing is sent to change our lives because nature wants US to take this authority and change OUR OWN lives. The reason for our being existing would go all in vain if someone would be sent to help us on every step. The experiment would result in a complete failure if we would never do something that we were supposed to do and instead we were always helped by someone. We are meant to feel alone because that's only when we will put efforts to make things happen. Some people suicide and fail miserably and I believe no matter what happens, one should not suicide. A suicide will prove that we did not deserve this life, this body, this planet, this LEVEL and we might have to start the game all over again, or we might be sent to a level lower then we are now. We should instead take things lightly and consider it all a game instead of taking our life as a struggle or challenge.
It doesn't feel like someone is listening because its replies need us to be evolved to be able to understand those answers. Nature do reply, every time, but in its own language. Nature does not reply in English or Hindi, it replies in the language of nature and the language of nature is – FREQUENCY and VIBRATIONS. These can not be understood by everyone until and unless we dedicate ourselves to listen and understand it. I might mention about this language sometime later in another post, but as of now what I only want to convey is that yes you are being listened to and replied. Just be aware to understand the answers.
People keep on taking advantage of us and we keep thinking that they are never punished. Well, how do you know that they aren't? They won't come crying and tell you what happened to them. Most of the times, they will just get frustrated and find someone to blame for all the miseries they are facing. They won't even know that they are being punished for something that they did to someone. So just don't get into this stuff. Let nature maintain it's balance on its own and just have faith. Keep doing your thing and dump all your thoughts about other people who did bad to you. It's their business. Our duty is to learn from our experiences, upgrade ourselves, be prepared for more things to come and stop whining about why others took advantage of you. Instead, stand for yourselves and be careful the next time, not allowing anyone to take benefit of you.
We feel as if no one cares, because that's how we would be responsible for taking our own care. I was from those people who are very careless. I never used to re-check things which others did for me. Of course, because I trusted my family and I thought whatever they will choose for me would be correct. I took this fact so carelessly that humans are the one who makes mistakes !! I learned it the hard way that I should not even trust my family members. I learned that I should re-check each and everything that is related to me. I stopped depending on anyone no matter how close they were to me. Not because they wanted something wrong for me, but because they too can make mistakes and I would have to be the one to suffer it all. So if no one cares for you, drop that unnecessary sadness and hold up on yourself !!
And next time, if you do anything ethical or unethical and think that no one is watching, remember that nature is watching, EVERYTHING. It will reply not just to your words but also to your actions, whether good or bad. So act wisely !!
(If someone wants to connect to me to learn the correct forms of meditation, they can contact me on Instagram or facebook. It is completely free of cost. Links to my social sites can be found on the topmost right corner of my website.)
Follow me on other platforms